A comprehensive range
of associated facilities
ITC Paris will provide an extensive array of services. Most of the facilities are in the upmarket segment, but alternatives are included to satisfy everyone's expectations in the best conditions.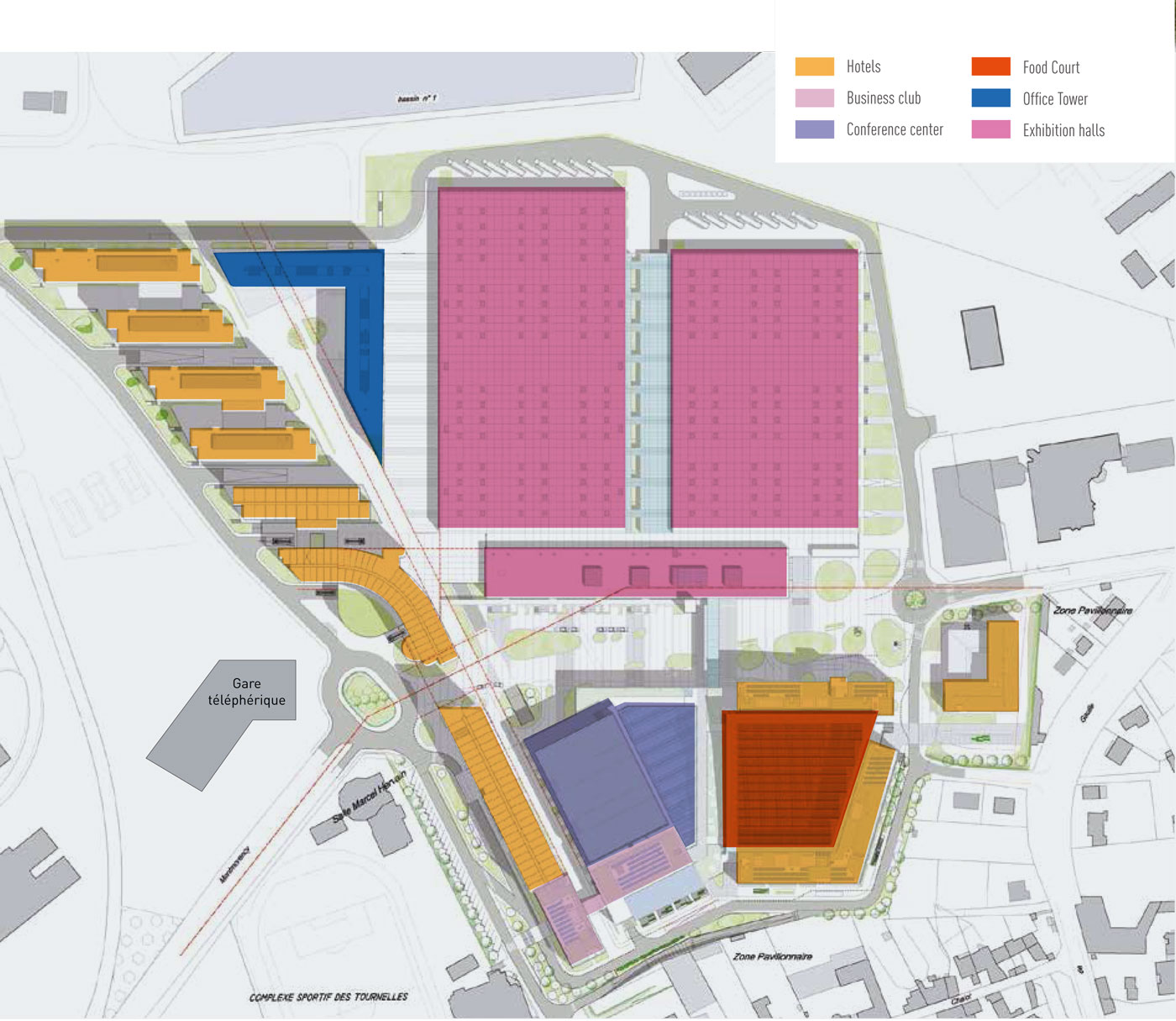 The conference centre :
It is designed to be able to accommodate several separate events of varying sizes being held simultaneously.
1 auditorium of 3,000 seats
4 plenary halls of 700 m2 each
1 auditorium of 800 seats
2 foyers that wrap around 5,000 m2 of meeting rooms
120 modular meeting rooms
2 eateries
The exhibition centre :
This separate building has 3 halls that can accommodate either separate events or events connected with those held in the conference centre.
one 8,000 m2 hall on 3 levels
one 16,000 m2 hall on 1 level
one 13,000 m2 hall on 1 level
4,000 sq m of exterior exhibition area
The Food Court :
3,500 m2 plaza square with 2,500 m2 of restaurants
ITC Club :
3 000 m2 of meetings facilities
Hotels :
The hotels of ITC Paris offer a wide range of quality standards and provide amenities such as restaurants, a business centre, a spa, a gym, a swimming pool, shops and other services.
5-star hotels:
Grand Hôtel: 306 rooms, suites and spa
Grand Palace Hôtel: 260 rooms and suites
4-star hotels:
Hôtel Ville: 131 rooms and suites
Hôtel Nord: 521 rooms and suites
Hôtel Palace: 298 rooms and suites
Hôtel Plaza: 185 rooms and suites
3-star hotels:
Hôtel Sud: 139 rooms
Office building:
a divisible 9-floor building with 22,000 m2 of offices and retail
Innovation
to limit the carbon footprint
An environmentally friendly, civicminded project, ITC Paris assigns nature a central role. It ties in perfectly with the environmental approach of the Regional Development Contract of the Roissy sector.
As emphasis will be put on materials with low environmental impact, ITC Paris will be equipped with a photovoltaic power plant. In combination with techniques of geothermal energy, cogeneration and trigeneration, its production of green energy will cover up to 40% of its energy needs.
A SMART GRID will coordinate the management of the site's energy consumption.
ITC Paris is aiming for the international certification LEED Gold (Leadership in Energy and Environmental Design) and the French BBC (low-energy building) label.
Lastly, to foster the use of greenways, ITC Paris will make self-balancing personal transporters, bicycles and electric vehicles available to its users.