Strategic Crossroads
with outstanding surroundings
Direct proximity to a first-rate international airport: Paris-Charles-de-Gaulle
A bustling area popular with big business
Exceptionally varied cultural and leisure facilities
Complete range of retail outlets including the Aéroville and O'Parinor shopping centres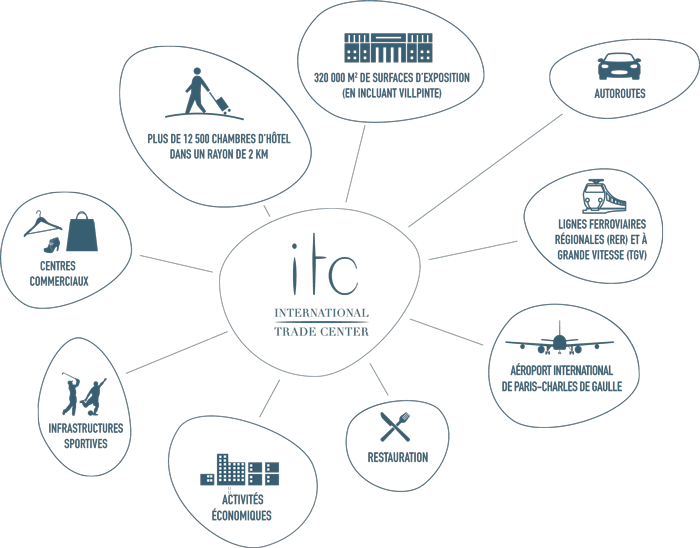 Just 4 kilometres from Paris-Charles de Gaulle Airport, ITC Paris will be able to capitalize on its central position to expand its scope throughout Europe. With 63.8 million passengers (according to 2014 figures), the Paris-Charles de Gaulle Airport platform is the busiest continental European airport and ranks eighth in the world in passenger traffic. The support of the first-rate logistics hub of the northern Paris region has put it at the top of the list of European airports for freight as well.
The advantages
of a unique multimodal hub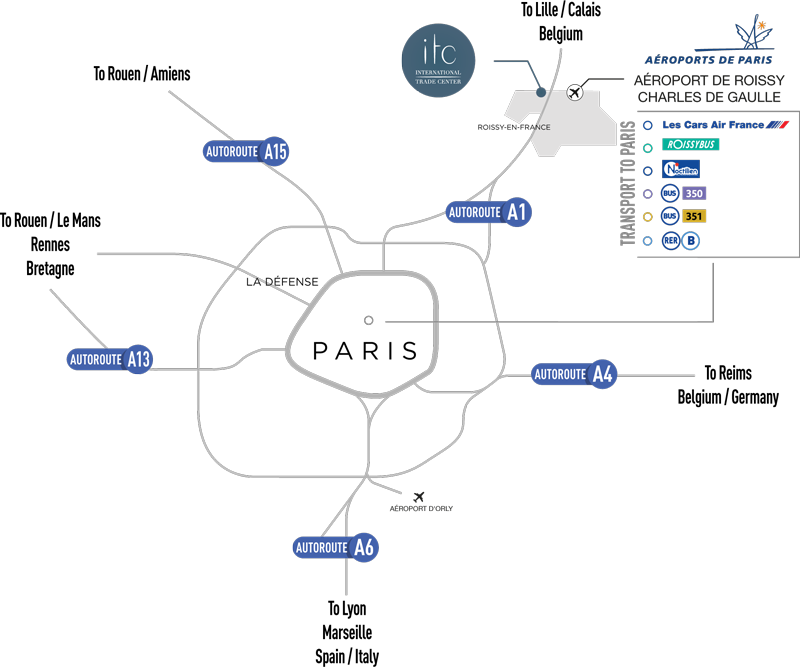 With passenger traffic mounting and investment reaching 3.1 billion euros over 5 years, the outlook is positive: annual growth is expected to reach 2.5% between 2016 and 2020. Availability of land near the site is one of the elements that make such infrastructure development possible.
The Roissy high-speed TGV railway station completes the efficiency of air transport, offering direct connections to the major Western European cities. By road, the site is accessible via by the French motorway network, which is connected to Europe's major traffic arteries.
Existing infrastructures put ITC Paris at less than 2 hours from all the Western European capitals and major economic hubs.
On the regional level, ITC Paris will be connected to the capital by the RER commuter rail service. Under the Grand Paris development project, passengers taking the future Grand Paris Express will be able to get from the site to the tertiary hub of St. Denis and transfer to the line providing service to Paris-La Défense, the leading European business district.
Private shuttles provided by ITC Paris will take passengers to and from the airport in 10 minutes, thereby completing the existing network. A bus terminal will be installed at the foot of the exhibition centre and an aerial tramway connecting ITC Paris to the economic hub Paris Nord 2 is in the planning stage.

At the heart of a mature economic hub
that continues to expand
By choosing Roissy-en-France, ITC Paris becomes part of an outstanding regional impetus.
The authorities and private investors are currently backing a number of projects to inject vitality into the area north of Paris:
Aéroville an 80,000 m2 shopping centre inaugurated in late 2013
Recent moves to the area made by major multinational companies like Volkswagen and FedEx
Development of Europa City, a future retail and cultural hub of the Grand Paris project, expected to attract 30 million visitors a year
Creation of CAREX, a new European high-speed freight service north-west of the ITC Paris site
Reclassification of leisure facilities and a golf course
Reinforcement of public transport connections (CDG Express, automatic métro and bus in the framework of the Grand Paris network)
Tertiary development in the Parc du Mail zone, nearby to the south-west of ITC Paris
Move of the headquarters of ADP, the Paris airport authority, from Paris to Roissy
Increase in hotel capacity that will bring the number of rooms up from 9,500 to 12,500 (the same capacity as Nice) by 2019, giving Roissy a significant edge
AéroliansParis, a 200-hectare business park including 850,000 m2 dedicated to international businesses, scheduled to be completed in 2016
A Park, a 28-hectare mixed development zone devoted predominantly to NICT